By BROOKE KRAIZER
Legends & Lanterns is making its way back to Saint Charles bringing with it the spirit of Halloween. The festival takes place on Saturdays and Sundays starting Oct. 9 and concluding on Oct. 24.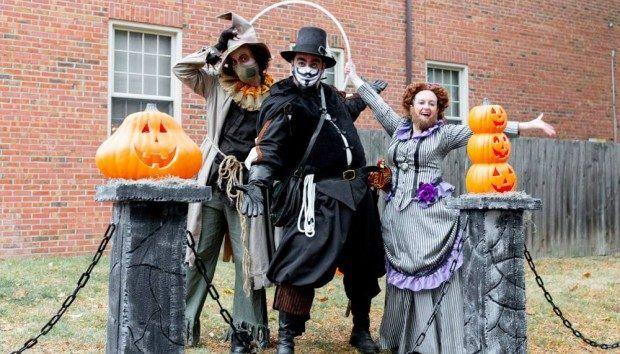 This event will host activities like a self-guided walking tour of historic Main Street with digital audio that unveils the tales that shaped the legacy of the historic district. See where witches met along Main Street, learn about Edgar Allan Poe's Saint Charles connection, walk the grounds where a large cemetery once stood, hear the stories of restless spirits and real-life angry villagers that once wandered these brick streets. 
Want to meet a ghost in person? Head over to the First State Capitol site, the perfect spooky setting for stories told by two other-wordly residents from Saint Charles' past.  
Down at the Katy Train Depot in Frontier Park you can discover why homes have living rooms (Hint: It might not be what you think) as well as explore a family-friendly exhibit of peculiar artifacts, including Victorian mourning gowns, tear vials and memorial wreaths made of human hair. The depot will also be transformed into an old-fashioned movie house where you can relive nostalgic movie clips or see them for the first time – all while enjoying complimentary popcorn as long as supplies last.
We don't want to scare you, but Kister Park has been taken over by scarecrows – created by area merchants and organizations. Be sure to vote in a digital poll for the scarecrow you like best. 
What's the difference between a "gargoyle" and a "grotesque?" A new educational exhibit will show off the stone monsters by answering questions about the culture and artistry behind both of these characters. In another exhibit, you can put your green thumb to use by studying poisonous and carnivorous plants and examining a collection of bell jars and terrariums, each holding sinister specimens. 
Everyone loves a good hayride! Board an old-fashioned, horse-drawn hay wagon for a ride down Main Street. The Missouri River in the distance paired with the street's unique architecture and its autumnal glory help to create a ride to remember. You may even be joined by a spooky character on your one-way journey. 
In La Plaza del Dia de los Muertos, you can explore Day of the Dead customs through food, stories and music. 
At the Writers' Block, you can perfect your writing alongside Edgar Allan Poe, Mary Wollstonecraft Shelley and the Brothers Grimm, all of which are featured writers in the horror story genre. 
The Tourism Center will have souvenirs to help you remember this festive event to ensure you can carry that halloween spirit 365 days of the year. You can even get your photo taken and then magically age within a blink of an eye. 
Before you go, check out the Legends & Lanterns Facebook page to help guide you toward Jekyll the Cat. Take a smartphone photo with the mascot and show it to a volunteer to win a small prize. 
On Oct. 22 and 23, from 5-8 p.m., don't miss the Legends & Lanterns' Pumpkin Glow. Jack-O-Lanterns will line Main Street – the ideal setting for photos to be taken and memories to be made – and participating shops will welcome you with festival specials and enchanted hospitality.