Coach Brent Chojnacki and his Francis Howell Vikings are ready to test the new synthetic football turf that recently was installed at the school.
The Vikings open their season on the road on Aug. 28 in Columbia against Hickman High. The Vikings then play at Fort Zumwalt North on Sept. 4. But their first home game, originally scheduled for Sept. 11 against Granite City High, has been canceled.
There is no football this fall in Illinois. Those teams will play football next spring. That's an option the Missouri State High School Activities Association made available to its member schools on Friday, Aug. 14, though as of press time, no schools had chosen that option.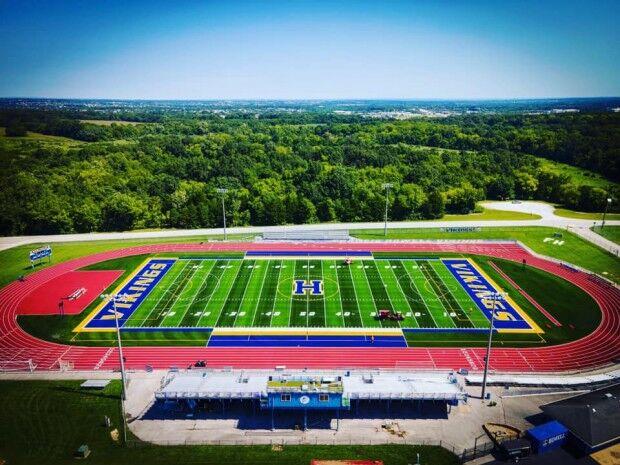 The Vikings are eager to get on their new surface and play. The new state-of-the-art field features the newest Ram Turf product on the market installed by ATG Sports.
The field also features a shock pad which adds to the comfort, durability and safety of the playing surface. A shock pad is a middle layer of padding installed between the sub-base layer and the layer of artificial turf. Like the pad under a carpet, shock pads can increase the comfort of artificial turf and extend its life. It also has the added benefit of helping to prevent injury.
The turf project at Howell replaces 11-year-old turf that had far exceeded its lifespan.
"We've got a beautiful new turf installed just in time for practice and the new season," Chojnacki said. "With Granite City not playing football this fall, we have to find somebody. I'm hopeful and sure that we can do that. Our kids want to play on our new field as soon as possible.
"It's First Responders Night for us so that's very special. We're looking for an opponent. I think we'll get a game. These kids will be hungry to play at home. We're eager to play."
(As of Aug. 18, the game remained canceled.)
Last year, Francis Howell went 10-2 after producing a 7-4 record in Chojnacki's first season at the helm.
"It was a big improvement," Chojnacki said. "We made some changes in that first year. Last year we competed well and did some really good things."
The Vikings reached the Class 6 quarterfinals (district championship game). There, they lost to eventual state champion De Smet Jesuit by a 31-3 score.
"Making it to the district championship game is very good. We took a big stride forward from year one," Chojnacki said. "Our support and commitment from the community are so big. But we all know that getting to the quarterfinal round is not enough. We want to play on Thanksgiving weekend for a state championship."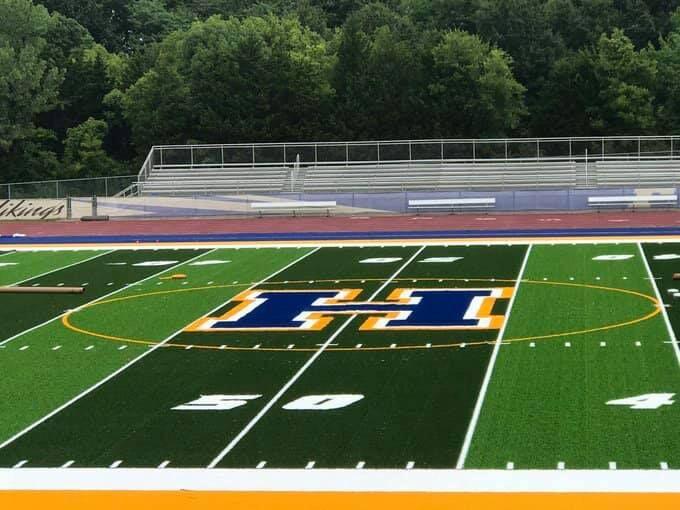 This year, support from the Viking community will be limited — at least in person.
A listing on the school's website reads: "Due to Covid-19, all Howell venues will be operating at reduced capacity with socially distanced seating to ensure the safety of all students, staff, parents and fans. The events that will be most affected by the reduced capacity are our Friday night home football games that in recent years have become large community events that are regularly attended by more than 5,000 passionate Viking fans."
The home side crowd in the stadium will be limited to 1,200 fans. However, all home games will be streamed live on the Francis Howell Vikings Sports Network.
With or without fans in the stands, Chojnacki is optimistic about his Vikings this season.
"I'm most excited for this year. We've got a great new group of kids and we've got some holes to fill. It's a special group of guys out there for us and I'm looking forward to seeing what they can do," he said. "There is no pressure on us. We've got a great group of coaches. The kids are great. We're going to put in the work and the success will happen."
The Vikings do have some holes to fill. On offense, running back Gideon Niboh, who rushed for 1,499 yards and scored 20 touchdowns is gone. On defense, lineman Jack Larkin, who had 119 tackles including 14 for a loss and five sacks, and linebacker Charlton Watson Jr., who had 116 tackles and 2 sacks and a fumble recovery and 2 interceptions, graduated.
"Those seniors were very special," Chojnacki said. "We've got some big shoes to fill. But we have guys who will step up and play well. I'm confident in that."
Returning to lead the offense is senior quarterback Alex Pipes. Last fall, the 6-foot-1, 170-pound Pipes threw for 1,382 yards and had 20 TDs. Chojnacki said Pipes is poised for an outstanding senior year.
"Alex has changed tremendously from last year to this year," Chojnacki said. "Mentally, he's so much better. He's seeing the field better. Physically, he's put on about 20 pounds. He'll have a good year. He can only be better than he was last year. He'll have some weapons out there to use, and we'll utilize him in every way we can."
To lead the running game, Chojnacki said junior Damon Williams and senior Dane Mohrmann will carry the ball.
"We have two good backs. I'm confident in our running backs to run the ball well for us," Chojnacki said. "Mohrmann was out with a collarbone injury all last year. He broke it in the early summer. He came back for jamboree and aggravated it and had to be out for all year. So he's ready to get out.
"It will be exciting having those two. They can make things happen. We have other young kids who can help us, too. We have some good sophomores who can contribute."
There are several leaders for the defense, Chojnacki said.
"We've got some good choices at linebacker. The biggest guy is someone who I think will have a phenomenal year and that is Jack Meyer, who'll be a senior for us. He's a very physical and high motor kid at defensive end," Chojnacki said. "Junior T.J. Houston and sophomore Brett Norfleet will be on the line. Norfleet is going to be special. He has been offered (scholarships) to Missouri, Tennessee and Kansas State. He's 6-7 and 225 pounds and he's going to be a good one.
"Our senior class is loaded with good leaders. I'm confident in them. I think they will contribute to our success this season."
While the schedule remains fluid, it appears that the debut of the new field will take place Sept. 25 when Howell goes up against Troy Buchanan. Likely, that game will reach fan capacity quickly.
"I think the Francis Howell community is very eager for us this season. The kids are eager to get out there and play. We'll take it week by week," Chojnacki said. "We want to play for a district championship and then see what happens. Absolutely, I'm excited about this year.
"If you asked me that a few weeks ago (about the fate of the season) I would say I was worried. Now, I think we'll get a lot of football. If everybody does their part and follow the guidelines, I think we'll have football. I know Francis Howell will do its part."