St. Louis Cardinals fans are in for a double treat in April.
Not only will there be a baseball season in 2022 but fans of all ages can enjoy a new coffee table book entitled "64 Cardinals: A Team, A Season, And A Showdown For The Ages."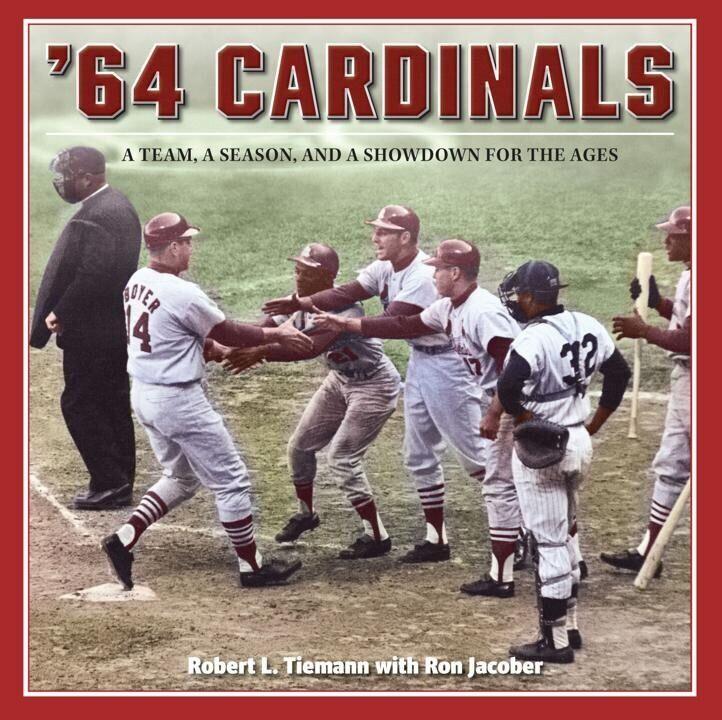 The book will be available in stores April 15 and is available now for pre-order at reedypress.com.
It was written by broadcast journalist Ron Jacober and baseball historian Robert L. Tiemann. The two also co-authored the local best-seller "Immortal Moments in Cardinals History." That book was a magnificent collection of Cardinal highlights. It revived the greatest moments in franchise lore, from the forgotten victories of four consecutive pennant winners in the 1880s right through the 2015 National League Central Division pennant. The new book focuses only on the 1964 Cardinals team.
"I really enjoyed writing it," said Ballwin resident Jacober, who covered St. Louis sports on local radio and television for 47 years. "I'm a lifelong Cardinals fan. I'm old enough to remember the '64 Cardinals. Talking with some of the guys who are still alive was so much fun. I marveled at the minutiae of details about that season and the World Series and things of that nature.
"It was an amazing team in what they did. Everything that went on during the season ... made it so special."
Jacober explained that team owner, August A. "Gussie" Busch Jr., fired general manager Bing Devine on Aug. 17, 1964, when the team was 11 games out with 39 games to play ... "and they won it all."
In one of the most exciting seasons in baseball history, the 1964 Cardinals surged in the final months to steal the pennant from the Philadelphia Phillies; then, go on to top the mighty New York Yankees in seven games to capture the World Series.
How did an unlikely assortment of people and events come together for such a monumental achievement? The book, a photo-illustrated story of promise, turmoil and triumph, reveals everything.
"I think any baseball fan but especially Cardinals fans will enjoy this book," Jacober said. "It chronicles the whole season, especially every game of the World Series. The sidebar stuff to me is very interesting with the interviews I did with the living players. There's a ton of pictures in this book. It's done right. I think people will enjoy the photos as much as anything in it."
Readers will discover how the famous trade for Lou Brock provided a jolt that reversed a summer swoon; how superstar pitcher Bob Gibson ascended to dominance down the stretch; and how other indispensables, like Curt Flood, Dick Groat, Bill White, Julian Javier, Tim McCarver, Mike Shannon, Barney Schultz, team captain Kenny Boyer and others, helped to power the team through the NL meat-grinder and the ultimate clash of historic heavyweights.
"All the players I spoke with were very cooperative," Jacober said. "I had some very interesting conversations with them and what they would remember fascinated me. Like McCarver telling me about his game-winning home run in Game 5. The Yankees moved Micky Mantle to right field from center to help save his knees. McCarver said he saw the ball fly right over Mantle and it was something he never forgot. Mantle was such a star. McCarver said in his mind's eye, he can see it still."
High drama wasn't limited to the field, thanks to hard-driving owner, Gussie Busch, and his "special consultant," Branch Rickey. The book illuminates how palace intrigue foreshadowed the unthinkable departures of general manager Bing Devine and manager Johnny Keane during and after the Series, respectively.
"It was such a crazy season because of the happenings in the season," Jacober said. "Gussie Busch thought the Cardinals were a failure. He compared the Cardinals general manager to one of his beer distributors and said  if one of his distributors had failed six years in a row, he'd fire him. Gussie hired Branch Rickey as a consultant, and I think Rickey was pretty much responsible for the firing of Bing Devine."
The 1964 Cardinals often have come up as a truly remarkable team, both as individual personalities and as a close-knit team in the context of a hard-fought World Series triumph.
"I enjoy writing," Jacober said, but he gave credit to Tiemann for giving the book its insider feel. "Bob is the genius behind this. He was a member of SABR (Society for American Baseball Research). He remembers the smallest of details and investigates them."