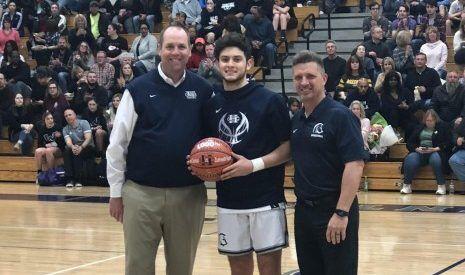 Myles Estrada has had to have big shoulders for the Francis Howell Central basketball team this winter.
Estrada, a junior guard, has served as his team's offensive leader game after game as the Spartans have positioned themselves to finish with a winning season.
On Feb. 18, the Spartans dropped a tough 62-56 home game to Fort Zumwalt North's Panthers, but the night still ended up being a very special one for Estrada and his Central teammates.
During that game, Estrada scored his 1,000 career point, thus earning him a spot in the history books of the Spartans basketball program.
"I was very grateful," Estrada said of scoring the point. " … I was proud of myself because I've worked for it. It was a really big dream of mine to hit 1,000 points. I was relieved because I didn't have to think about anymore. I was also exhilarated."
The milestone basket for Estrada came while the Spartans were making a comeback run against the Panthers in the second half of the game.
"There was a loose ball and somebody saved it from going out of bounds," Estrada said. "I just saw an opportunity and went, picked it up, attacked the basket and made a Euro step move and finished with a reverse on the backside of the basket."
What made the night even more special for Estrada was having his family and friends in the crowd for the big moment.
"My mom [Tonya] had a sign made for me that she brought for the game and my dad [Alvaro] took a video of the shot," Estrada said. "My mom and my dad started screaming very loudly and my little sister [Gabriella] was up in the stands. I could even hear her screaming for me and it just made me feel really great for my family."
During the game, Estrada's friends held up signs counting to the magic number as he made shots to get close to the 1,000 point plateau. He finished the big night with 16 points, hitting seven of 15 shots from the floor.
Coming into the season, Howell Central coach Brian Cissell said he and athletic director Scott Harris knew that Estrada was closing in on the big career achievement.
"Every year he had scored close to 400 [points], so going into this year, Scott Harris and I knew there was a pretty good likelihood that he was going to hit it at some point during the season and it was probably going to be sometime after Christmas," Cissell said.
Cissell, who has coached for over 20 years and is in his first year as Howell Central's head coach, said Estrada is by far one of the best players that has ever come through the program.
"We've had some really quality players as quality human beings but he checks all the boxes as being one of the best players we've ever seen," Cissell said. "He's easy to root for."
Estrada is only the sixth player in program history to hit 1,000 career points and also the first junior in school history to do it. He is the first Spartan to join the 1,000 point club since Derrick Puni in 2013.
Estrada's hope is to be an inspiration to future Spartan players down the line.
"I want the 1,000 points to be another kid's dream as a Spartan in the future that they come and say, 'I want to score 1,000 just like Myles' and all the other layers that have done in history," Estrada said. "I want it to be motivation [for them]."