The St. Louis Blues acquired three top forwards to help with their offensive production this season.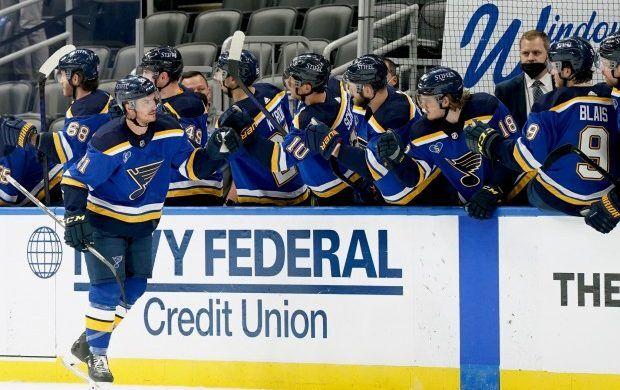 Pavel Buchnevich came to the Blues in a trade with the New York Rangers. He then agreed to a four-year, $23.2 million contract. The Blues sent Sammy Blais and a second-round pick in the 2022 NHL Draft to the Rangers in the deal.
Brandon Saad was signed as an unrestricted free agent by St. Louis. The 28-year-old Saad agreed to terms on a five-year, $22.5 million contract.
Then, on Sept.14, the Blues announced that veteran forward Tyler Bozak would return to the team on a one-year, $750,000 contract that also includes additional performance bonuses. Bozak first signed with the Blues in 2018 on a three-year contract.  He has accumulated 84 points (31 goals and 54 assists) in his time with the Blues and was a key component during the 2019 Stanley Cup championship.
The goal is to get more goals and more scoring punch is needed by the club.
The two new Blues combined for 35 goals in the pandemic-shortened 2020-21 season. Saad's 15 in 44 games would be a 28-goal pace in a full, healthy season. Buchnevich's 20 goals in 54 games was a 30-goal pace.
Adding almost 60 goals to the top six group of forwards will vastly improve the team's goal-scoring abilities, which ranked 13th last season.
The 6-foot-3, 196-pound Buchnevich has played his entire five-year career with New York, recording 195 points (79 goals, 116 assists) and 112 penalty minutes in 301 regular-season games. He is 26 years old.
Saad was selected by the Chicago Blackhawks in the second round of the 2011 NHL Draft. Saad has scored 371 points (184 goals, 187 assists) in 632 regular-season games with the Colorado Avalanche, Chicago Blackhawks and Columbus Blue Jackets. He scored 24 points (15 goals, nine assists) in 44 regular-season games for the Avalanche last season and eight points (seven goals, one assist) in 10 Stanley Cup playoff games.
Blues General Manager Doug Armstrong is happy to have Buchnevich.
"He's got good size at 6-foot-3, he's a left shot (and) can play the right side," Armstrong said in a Zoom call about Buchnevich. "He's scored in the league recently, he's 26 years old, a player obviously we control for a year and would like to sign long term. He's the right age group for us with what we're trying to accomplish. A very good penalty killer, too, a very underrated penalty-killer. So he's going to touch all aspects of our game and he's at a good age. As we continue to retool this roster, and I think he's a good piece for us."
Armstrong also talked about the Buchnevich trade. 
"I'm excited to have Pavel join our group," he said. "I want to thank Sammy Blais for his contributions to our organization over the last number of years, (and) wish him nothing but the best of luck and success with the Rangers."
Buchnevich lives in Cherepovets, Russia, and has been there this summer. He will arrive in St. Louis before the Sept. 22 start of training camp.
"I'm just happy it's happened," Buchnevich said about the trade during a video call. "I don't need to wait anymore and I know where I will be the next four years. I think it's a good team. Two years ago they win Cup, I know that. Obviously, they have a lot of good players. Obviously, tough to play (against). A good goaltender. I hope I play a big role there and help the team."
Buchnevich will become the first player in Blues history to wear No. 89.
"I think 25, 26 is really at a very good age and when you're moving players, and we've done that in the past, in that age, you're a little apprehensive because you know they're just coming into their own and when you gain players from other organizations, you hope that there's still another level to go to," Armstrong said. 
Armstrong believes Buchnevich will be able to take his game to the next level.
Saad will replace Jaden Schwartz on left wing. Schwartz, 29, signed a five-year, $27.5 million free agent contract with the expansion Seattle Kraken.
Joining the Blues will be a good move for him, Saad said.
"I'm excited," Saad said in a video call. "I'm looking forward to getting to know the city a little bit better, because when you play there, kind of in and out, you don't get to see all parts of the city. But I've heard great things, and they're obviously a great hockey team that I'm looking forward to joining and having another chance of winning and have that success. I think all the ingredients are there, and it's a team that definitely excites me, that's for sure, so I'm definitely glad to be a part of it."
It was a big decision for him to choose St. Louis.
"Having a family and a couple of young kids, you have to talk to your family, weigh out the pros and cons, the living situations, team situations," Saad said. "There's more that goes into it than you'd think. It was something I really wanted to think about and digest before really making a decision.
"Anytime you have an opportunity to play for a good team, I think that excites you as a hockey player. That's something I definitely thought about."
Saad has valuable Stanley Cup experience as well.
He has scored 50 points (25 goals, 25 assists) in 91 playoff games and won the Stanley Cup with the Blackhawks in 2013 and 2015. St. Louis, of course, won the Cup in 2019.
"I think that experience, it's hard to come by," Saad said. "So any time you can join a team that's had success, especially recently, they know what it takes to win, they kind of have that mentality. I think that's huge and something that you can't really put a price on."
Coach Craig Berube puts a premium on a physical style of play. That is fine with Saad.
"I think from playing against them, they play a heavy game," Saad said. "They like to hold on to pucks, cycle pucks, protect it, and that's all part of my identity as well. I think I can fit right into that aspect, as well as play a 200-foot game.
"I've won in my career, I've been fortunate. And once you get a taste of it, there's no better feeling. When it comes down to it, I want to go somewhere where I have another chance of winning. I want to have a successful team and the Blues fit that mold."