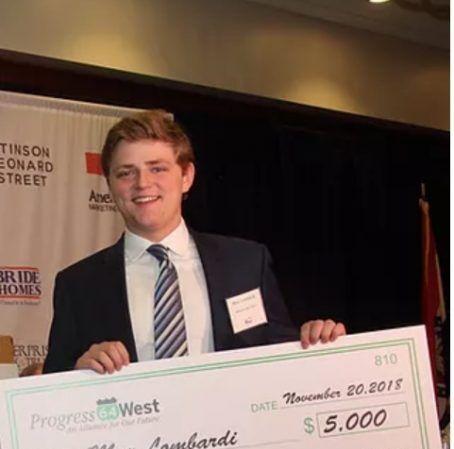 Each year, civic organization Progress 64 West honors the entrepreneurial spirit of Louis S. Sachs by awarding thousands of dollars in scholarships to area high school seniors. This year, those awards just got bigger. 
As the result of remarkable generosity from its sponsors, the Louis S. Sachs Scholarship program will award scholarships totaling at least $11,500 to area high school seniors attending schools along the Hwy. 40/I-64 corridor. That's those students living in the Parkway, Rockwood, Francis Howell, Fort Zumwalt and Wentzville school districts as well as area private school and home-school students. 
Progress 64 West will award one $5,000, two-year scholarship; two $2,500, one-year scholarships and one $1,500 scholarship.
To be considered for a scholarship, applicants must submit a proposed Executive Summary of a Business Plan that includes:
• A description of the business concept, including nature of the business, mission, objectives, philosophy and values, and contribution to the community.
• A market analysis, including market need, competition and strategy to meet the need and successfully and profitably compete.
• Business operations, including necessary management, employees, vendors, professional assistance, facility and technology.
• Sales and marketing strategies, tactics and techniques.
• Sources and uses of funds necessary to start and operate the business.
Applications are available online at www.progress64west.org. The submission deadline is Nov. 1. Applications should be submitted as a PDF via email to the attention of Sharon Huber at p64westscholarship@gmail.com.
Progress 64 West representatives may interview applicants prior to awarding the scholarships. Awardees will be required to attend the organization's annual awards banquet on Wednesday, Nov. 24.
"Take every opportunity that presents itself to you, because one of them might just be the difference in your success," advised 2019 scholarship recipient Lucas Ramsey. 
Of the scholarship and the opportunities it offers, Ramsey said: "The Louis S. Sachs scholarship, through Progress 64 West, held more than just a chunk of money to go to school seeking a business degree. Working with such a phenomenal organization helped me to create connections that last a lifetime." 
The Louis S. Sachs Scholarship program is presented by American Direct Marketing Resources, LLC; Doster, Ullom & Boyle LLC; RiteAir Heating and Cooling; and Technology Partners with contributing sponsor YouthBridge Community Foundation.
Progress 64 West was established in 1987 to promote the responsible growth of commerce in the greater St. Louis region, with a particular emphasis given to the I-64 corridor from I-270 westward to I-70. A partnership of citizens, business and civic leaders, the organization's mission is to work to create and maintain sustainable communities and a high quality standard of life in St. Louis and St. Charles counties. The not-for-profit organization recognizes that the establishment and growth of commerce is essential to the community's viability by providing jobs for its residents and a tax base for high-quality public education systems and other necessary public services and amenities.