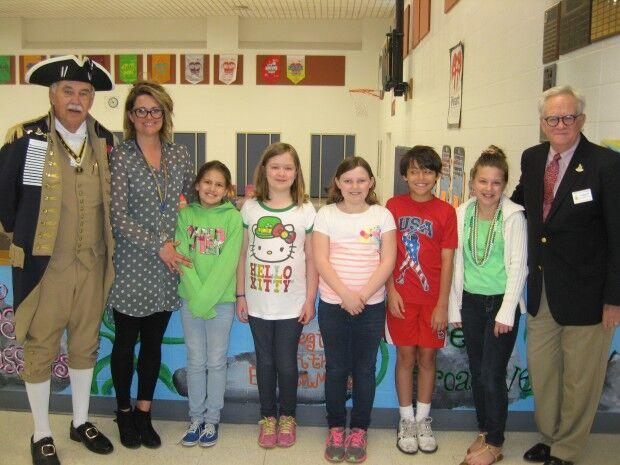 Celebrating George Rogers Clark
Peyton Hu, a Twin Chimneys Elementary student, was named the winner of the Spirit of St. Louis Sons of the American Revolution (SAR) Americanism Poster Contest.
Using the theme "George Rogers Clark," third-, fourth- and fifth-grade students were challenged to create a poster that accurately and artistically reflected the historical theme.
Hu was presented with a certificate and a cash award on March 17 by MOSSAR representatives. His poster has been forwarded to the Missouri SAR Society to compete against the winners of other Missouri SAR chapters.
Music students qualify for state
More than 50 Francis Howell High choir students, under the direction of Choir Director Karey Fitzpatrick, participated in the annual MSHSAA (Missouri State High School Activities Association) District Music Contests on March 6 at Fort Zumwalt East High.
Seven vocal soloists, two piano soloists and three ensembles achieved an "Exemplary" rating and qualified to perform at the State Music Contests on May 2 at the University of Missouri. Those students are (vocal soloists) Rachel Anthonis, Rebekah Anthonis, Lauren Bellamy, Erin Hediger, Emmy Robertson, Kenzie Sheehy and Kirra Wilson; (piano soloists) Rachel Hutson and Sarah Mason; (Girls Quartet) Jenna Hutfless, Alex Janssen, Sarah Mason and Jenny Moreno; (Girls Chamber Double Quartet) Allison Schult, Erin Hediger, Jenny Moreno, Emily Scherbring, Sarah Mason, Alex Janssen, Jenna Hutfless and Emmy Robertson; (Girls Sextet) Aly Aherron, Madi Jackson, Lydia Frederick, Kayla Thuet, Macie Parker and Gillian Steeno.
In addition to the individual solo and ensemble honors, all three Viking Choirs that performed  – Combined Women's Treble Choir, Women's Chamber Choir and Mixed Chamber Choir – received an "Exemplary" rating at the MSHAA State Large Ensemble Contest on March 4.
St. Dominic offers freshmen head start
Freshman students at St. Dominic High in O'Fallon will have an edge when starting school in the fall – thanks to a two-week summer program that will give them the opportunity to preview math, science and literature classes.
The Freshmen Edge will allow incoming freshmen to attend study sessions taught by teachers from those subject areas. The program also will introduce students to the iPad applications used by the school.
Students celebrate reading
For Read Across America Week last month, schools throughout the Francis Howell School District celebrating the joy of reading.
Fairmount Elementary chose to inspire kids by having a Storybook Character Dress Up Day.
"Storybook Dress Up Day is fun for the students and the staff, because it is a break from the normal routine that also allows them to express themselves by the character they choose," said Stephanie Couturier, administrative assistant to the principal.
A good story is one that comes to life, and during Dress Up Day students and staff dressed as Elsa and Annie, Princess Jasmine and Ninja Turtle Leonardo, as well as caped crusaders and royalty.
"They read all day, and we do various activities pertaining to the stories," said Dr. Sue Sharp, principal. "On Monday, I read "Green Eggs and Ham"… seven times to second grade. Because that's one of my favorite Dr. Seuss books."
Students make change
Students at Francis Howell North High welcomed peers from Confluence Preparatory Academy (CPA) in St. Louis on March 3.
Stemming from the Student Summit on Race Relations, the meeting was a first step toward improving relations in schools.
"This is a part of the race summit that we're doing in St. Louis," Chandra Alford, an English teacher at CPA, said. "This is a day where the kids are showing these other students their experiences here at Francis Howell North. And then those students will come to our school and do the same thing."
The idea of getting together and talking about important issues came straight from the students.
"At the first summit, we were supposed to work in individual teams within our schools, and (the students) didn't want to do that," said Erin Steep, assistant principal at Francis Howell North. "They wanted to team up and already start getting to know each other. So I think it speaks volumes about their maturity and their understanding of the root of the problem."
Steep also said students drove the program.
"I think that they felt the only way to make real and genuine change was to educate people, and to expose them to things they haven't experienced before," Steep said. "So this is a tiny drop in the bucket, but hopefully a drop in the right direction."
Steep said education is always the key.
"Just learning about other cultures, other areas, parts of our city; there are so many misconceptions and things that you assume from where you grew up or how you were brought up, realizing that a lot of that is just stereotype. We need to figure out the truth about people before we jump to those conclusions," Steep said.
Alford said her students appreciated the different experience.
"The goal of the summit is to try and broaden the perspective of our students on racial lines, and even economic lines," Alford said. "So this helps them see a diverse group of people, and how to interact in an educational setting.
"I think it just opens the eyes of all the students involved, especially my students who are in the city who don't always get an opportunity to get outside those parameters."
Investment savvy
An eighth-grade Barnwell Middle student placed fourth nationwide in the annual InvestWrite challenge.
Sarah Zimmermann took fourth place out of more than 20,000 students participating in the annual challenge, which seeks to develop personal financial skills.
"Sarah is an amazing student. She is highly motivated and very determined in all she puts her mind to," Heather Tomicich, a Gifted Education Specialist at Barnwell, said.
Started in 2004, the Securities Industry and Financial Markets Association Foundation's InvestWrite competition's goal is to inspire students to evaluate a stock scenario, and accordingly endorse portfolio allotments, while factoring in long-term and short-term goals. By doing so, competing students develop confidence and a greater comprehension of real-world financial decisions.
The InvestWrite competition serves as the culminating project of the The Stock Market Game, which draws approximately 600,000 students from across the country.