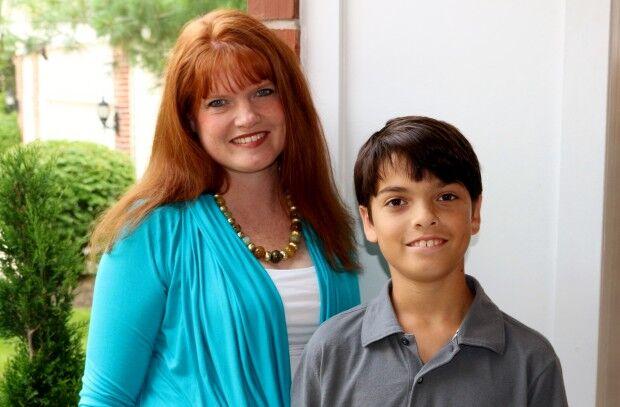 Chesterfield residents Lori and Manish Suthar said their son Joshua was your typical happy and healthy 4-year-old. Then, suddenly, his personality began to change. Initially, his parents noticed some impulsivity, but by age 6, he was experiencing tics and could not stop making clicking noises. Joshua described it "like someone (was) hijacking my brain."
That was when the real nightmare began.
The Suthars began visiting doctors and psychiatrists who diagnosed Joshua with obsessive compulsive disorder (OCD), anxiety, and potentially Tourette Syndrome. Despite medication, his symptoms grew with time, including most notably insomnia, mania, hallucinations and due to a lack of appetite, anorexia. Lori knew in her heart that doctors were missing something. It was through her own research she learned about PANDAS, a sweet-sounding acronym for a challenging disorder.
Pediatric Autoimmune Neuropsychiatric Disorders Associated with Streptococcal Infections (PANDAS) is believed to be caused from undiagnosed strep infections, triggering a misdirected immune response that results in inflammation in a child's brain. In turn, the child quickly begins to exhibit life-changing symptoms such as OCD, anxiety, tics, personality changes, decline in math and handwriting abilities, sensory sensitivities, restrictive eating and more.
But knowing what PANDAS was did not make the Suthars life easier. In fact, their battle for medial support was only beginning. The Suthars quickly learned that the medical community was resistant to acknowledging PANDAS as a true condition. With no definitive testing available, Manish, who is a physician specializing in pain management, felt push-back from fellow physicians.
O'Fallon resident Kelly Wooldridge shared similar struggles when her then 3-year-old son Brendan went from a sweet and snuggly temperament to aggressive with ADHD-type symptoms. While it was two years between symptoms and diagnosis for Joshua, it would take six years for Brendan's diagnosis. Along the way, he was officially diagnosed with ADHD, OCD, tic disorders, Asperger's syndrome and separation anxiety.
In a strange coincidence, 16 years ago Lori and Kelly worked respectively as pediatric occupational and physical therapists for Easter Seals in Texas. After returning to the St. Louis area, their sons' conditions brought them back together and they united to form Missouri PANDAS/PANS Parent Association, a local support group. PANS stands for Pediatric Acute-onset Neuropsychiatric Syndrome, a condition with symptoms similar to PANDAS, but with a variety of triggers.
Lori also formed "Joshua's Missing Peace," a Facebook support group that shares the same name as a book she co-authored with Laura Sherman, which details her story.
On Aug. 7-8 , the parent group is sponsoring the Midwest PANDAS/PANS conference. To be held in Chesterfield, the conference will include specialists who will speak on PANDAS/PANS as well as immunology and anxiety disorders. (Learn more at www.midwestpandas.com or www.pandasnetwork.org.)
With the conference attracting physician speakers from local powerhouses such as Washington University and from as far away as California and Oklahoma, Kelly and Lori are hopefully that the conference will be a "big step" in reaching the medical community as well as families affected by PANDAS.
According to Lori, a growing sector of doctors believes that PANDAS/PANS is a legitimate condition, but feel that the diagnosis is given too freely. Lori disagrees. She said data from the  PANDAS Network indicates that one in 200 children in the U.S. alone could be affected by these disorders.
And Kelly urged, "Don't accept a psychiatric diagnosis at face value. Dig deeper."
Both women are strong proponents of listening to their mother's instinct when it comes to what is best for their sons – and not just their sons.
"Be aware of the impact this is having on your whole family, not just the child with PANDAS," Kelly cautioned. "The frustration on siblings and spouses is immense."
While declines in math and handwriting abilities are possible PANDAS side-effects, Joshua is going into sixth grade but already doing ninth-grade math and playing chess, with no cognitive deficits. Brendan, who is going into eighth grade, also exhibits no current symptoms and is physically and mentally strong.
And for now, both boys are currently free of the debilitating symptoms that have plagued them most of their lives.