Dr. Danielle S. Tormala, superintendent of the Wentzville School District (WSD), had strong words for the Dardenne Prairie Board of Aldermen at a special meeting on Wednesday, April 12 concerning the proposed Prairie Encore Community Improvement District (CID) and its related tax abatements, which the city says are allowable under Chapter 100 of Missouri statutes.
"We're giving the board of aldermen a choice here," Tormala said. "You can delay approval of this project and come to the table to discuss PILOT (payments in lieu of taxes) payments that will mitigate the impact of the project on the district or you can proceed with approval, take vital funds away from the district and put this city in direct conflict with the district through litigation."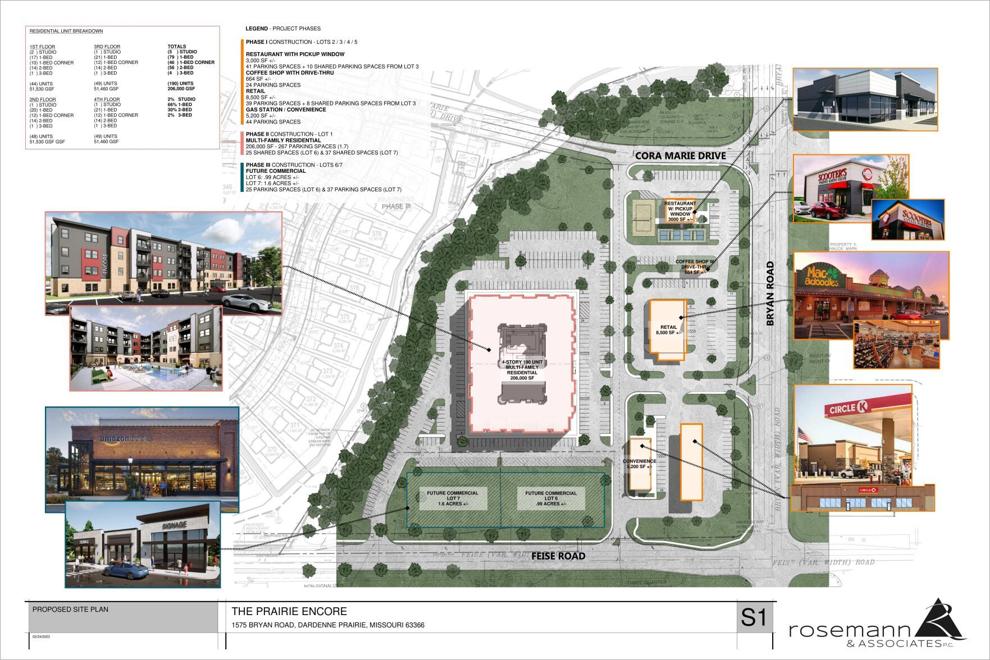 Two days later on Friday, April 14, as this paper went to press, the district and project developer Mia Rose Developments/KaLeCo LLC were sitting down to talk.
So why was the school district threatening the city with litigation? The simple answer is money.
KaLeCo wants to develop the 17.25-acre, corner lot at the intersection of Bryan and Feise roads. They would convert the site into a mixed-use property with 25,000 square feet of commercial/retail space to be completed in three phases alongside approximately 190 residential rental apartments. As part of that process, KaLeCo is asking the city to issue $68 million in industrial revenue bonds for the purpose of acquiring the property. The bonds would be repaid over a period of 12 years, reaching maturity on Dec. 1, 2035. During that time, taxes paid by the developer would be abated, estimating a diversion of revenue to the school district of $3.7 million.
However, City Administrator James Knowles III said that all the numbers hinge on whether or not the property actually gets developed. He said the city has been seeking to redevelop the property for more than 15 years but doing so is complicated. The corner lot is valuable but large and encumbered by a creek that diagonally bisects the property. Previous attempts to develop the site, including the placement of a Walmart Neighborhood Market there in 2017, have failed.
"We would like to see that entire portion developed and the property owners want to sell the entire piece of property," Knowles said.
From the city's perspective, it's about generating tax dollars to support city services.
"Most of the city's tax revenue comes from retail sales tax," Knowles said. "It's important for us to maintain fixing our streets, to maintain police services, to keep maintenance on all these new subdivision streets that are coming in. We have to get the best retail we can out of our commercial corridors … that's why that piece of land, which is one of the last open to pieces of commercial-type space we have in the city, it's important for us to develop that in a manner that will generate revenue that will allow us to continue to provide services to our community."
According to Knowles, both Dardenne Prairie and the city of O'Fallon are requiring KaLeCo to give up a "significant amount of right-of-way space to make improvements at Bryan Road and Feise."
"So the development has to give up, free of charge, property that they are purchasing for millions of dollars to the city so the city can build roads on it. Instead of us paying them for that property, we're giving them a tax break so to speak," he said. "They're also going to be constructing a new stoplight and a new roadway and a bridge across the creek into the development behind it, Inverness. That's a significant expense that we are putting on the developer.
"Given the number of public infrastructure improvements, including stormwater improvements and things like that, we felt that it was appropriate to come to some level of tax abatement or assistance to make this project happen."
He added, "This is not a speculative development. We already know there are going to be two restaurants for sure, a retail store and a convenience store/gas station. So that's already sold on day one."
Additional commercial lots along Feise would be developed at a later date, Knowles noted.
Tormala and WSD parents are also concerned with revenue and what proposed tax abatements for The Prairie Encore would do to the district's revenue generation.
Resident Cheri Hawes was the first of several parents to speak at the meeting. She noted that "local taxes are the largest single source of revenue for the school district" and pointed to the fact that those taxes are generated in five distinct municipalities.
"The Wentzville School District serves five communities … Dardenne Prairie, Wentzville, O'Fallon, Lake Saint Louis and Foristell. All of these communities are growing. All of these cities are issuing tax abatements. Separately, it may not seem like a big impact to you but collectively it is having a huge, negative impact on our school district," Hawes said.
Quoting a segment from Republican Rep. Richard West's April 8th radio show, Hawes cited that the impact of Chapter 100 tax abatements on St. Charles County school districts for 2021 and 2022 totaled $44 million. West represents District 102 in St. Charles County.
Hawes then rhetorically asked, "Who makes up for that? The taxpayers of St. Charles County do." She called on neighboring cities to "work together, to have open discussions and transparency with one another to ensure that the independent decisions they are making do not have huge, compounded and negative impacts on our most important, tax-supported resources."
"This deal, if approved tonight, will potentially impact every kindergartener enrolling for school next school year," said Shannon Stolle, a WSD board member and parent. "Do you want to make a decision tonight that will directly divert resources, much-needed money, away from those students the entire time they are in school from kindergarten to 12th grade?"
Ultimately, the board chose not to take any action on the bill on April 12, which means that a new board will address the issue on April 19. Among those new board members will be Laura Gittenmeier, who addressed her soon-to-be colleagues at the meeting regarding the abatement's impact on the WSD, St. Charles County Library system and St. Charles Community College.
"Here's the reality," Knowles said. "If next week this dies (at the city's regularly scheduled board meeting on April 19), the school district gets nothing."
Under the proposed CID, the school district gets $3,500 a year in taxes on The Prairie Encore development, he noted. "After the 12 years, you're looking at $400,000 a year in taxes that the school district is going to get."
As for the basis of any litigation involving the city and the school district, Tormala pointed to the protocol for Chapter 100 tax abatements.
"The district thinks that the project exceeds the scope of what is permitted under Chapter 100 since the definition of a project for industrial development does not include residential apartments or commercial and retail space," Tormala said.
She said that per Chapter 100, the city is to provide the district with notice and a copy of the plan no less than 20 days before the plan is to be approved. "The district received notice on March 27, which was only 16 days ago," she said, "The district was then presented with an updated plan 48 hours prior to the April 12 board meeting."
In her closing remarks, Tormala noted that the Encore abatement is on top of the abatement for the original Prairie development at Bryan and Route 364, which runs through 2034. According to the city's calculations, that abatement will divert $4.4 away from the district's over 17,500 students, she said.