At its Nov. 14 meeting, the O'Fallon City Council granted conditional use permits (CUPs) to Carl's Drive-In to operate a restaurant with a drive-thru and a commercial outdoor recreation facility at 211 Rush Way in the Streets of Caledonia development. The CUPs were approved by votes of 9-1, with council member Ron Connell (Ward 5) voting no.
This project will include a single-story, 4,497-square-foot restaurant with a drive-thru, inside dining and a rooftop patio. The restaurant will sell alcohol by the drink, including beer, wine, liquor, and frozen daiquiris. The family outdoor entertainment center will include a go-kart track, giant slide, swing carousel, sky tower and ice cream stand. The land on which all of this will be built is zoned C-2/General Business District.
The total parking required by the city is 91 spaces. Currently, there are 49 parking spaces provided on-site. The property owner will provide an additional 53 on-street parking spaces for a total of 102 parking spaces. All businesses in that commercial area of the Streets of Caledonia understand they have shared parking.
Carl's facility hours of operation will be 10 a.m.-10 p.m., Sunday through Thursday, and 10 a.m.-11 p.m. on Fridays and Saturdays.
Prior to those votes, a unified public hearing was conducted and both bills were given first readings. The council unanimously agreed to motions by Ward 3 council members Nathan Bibb and Steve Koskela to suspend the rules and vote for passage of both bills immediately, instead of waiting until the next meeting on Dec. 15.
Bibb explained that city staff had approached the developer about changes to the site plan for better traffic flow and better access in and out of the parking lot. He said the developer did not have to make those changes, but they did, causing them to miss the Oct. 6 Planning & Zoning Commission (P&Z) meeting. Instead, they had to go to P&Z on Nov. 3. That now puts them into limited exposure to council meetings, because there is only one council meeting in November and one in mid-December. The council unanimously approved the motions to suspend the rules.
Prior to the votes, Connell mentioned emails received by the council, falling into two main categories of concerns: Traffic and noise. He asked the developer how the council should respond. The developer pointed out that "the property is completely surrounded by C-2/General Business District properties." He also pointed out that "between Carl's amusement park and any residential areas is a gas station with a car wash."
Connell asked how many other properties like this one are in operation, saying, "there are worries that if this one goes belly-up, it would be an eyesore sitting vacant." The developer said they have several other amusement properties operating around the country and they are doing well. He mentioned a sky wheel as an example.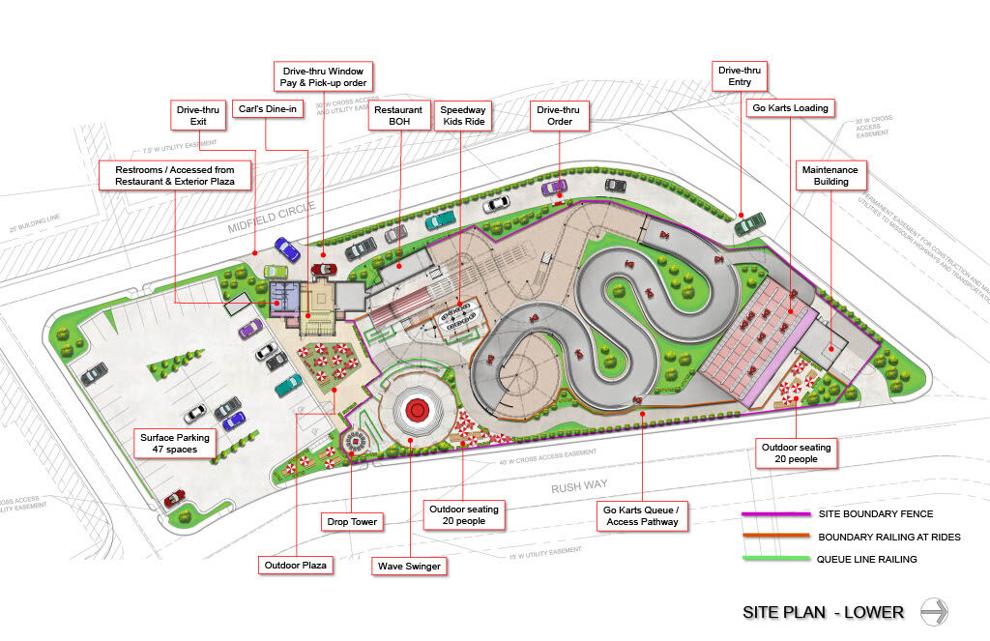 At the Nov. 3 P&Z meeting, the developer had noted that the Carl's venue would not have "stadium lighting" or "40-foot-tall poles that broadcast light." Instead, he described the lighting as typical "for safety on parking lots and sidewalks, and LED lights on the entertainment areas."
The developer also had clarified that the go-karts would be electric and would not exceed 60 decibels (dB) at 100 feet, as required by the city. For comparison, 60 dB is equivalent to the sound of a running air conditioner.