With the 2022 Old Farmer's Almanac predicting a "bone-chilling" cold winter, the last thing Spire Missouri customers want to think about is losing their heating.
But a decision by a District of Columbia Circuit Court of Appeals on Sept. 7 gave the gas company reason to be concerned that its $286-million, 65-mile STL Pipeline could be shut down long-term, leaving service gaps for natural gas customers this winter.
Seven days later, Spire received a reprieve in the form of an order issued by the Federal Energy Regulatory Commission (FERC). That order granted Spire up to 90 days of pipeline operation while federal regulators consider the company's application for a longer temporary certificate.
The pipeline, which has been serving the St. Louis area since 2019, interconnects with the Rockies Express Pipeline and the Appalachian Basins Pipeline to deliver natural gas to some 650,000 customers in eastern Missouri.
Following the District Circuit's decision, Jason Merrill, director of integrated corporate communications for Spire, stressed the urgency of the company's emergency certificate application.
"Customers who rely on the STL Pipeline need assurances this critical infrastructure can continue to deliver reliable and affordable energy supply," Merrill said, adding that Spire had filed its response to the FERC's data request supporting its application the same day the judgment was released. "We are confident that when people have an opportunity to review the proven benefits of the STL Pipeline, they will agree that there is a critical need for this infrastructure to ensure continued access to reliable, affordable energy for homes and businesses in the greater St. Louis region."
For now, FERC seems willing to the possibility of the STL Pipeline's continued operation through the 90-day extension will not see the company through the coldest days of winter.
The pipeline was approved in 2018, after a rigorous 18-month regulatory review process that, apparently, wasn't rigorous enough.
In June, a three-judge panel of the D.C. Circuit ruled in favor of the New York-based Environmental Defense Fund, on its claims that FERC had not sufficiently studied whether Spire demonstrated an actual need in the region for the pipeline. The court also found that the Fund had "identified plausible evidence of self-dealing" in Spire STL's reliance on affiliate contracts to show the pipeline was necessary.
The panel's ruling essentially vacated FERC's approval for Spire to operate the pipeline, leaving it operational but uncertified. The September ruling rendered the pipeline inoperable. However, if approved Spire's emergency application to FERC would allow the pipeline to continue operating.
According to the Missouri Public Service Commission (PSC), "the Spire STL Pipeline application filed with FERC on July 26, 2021, seeks a temporary emergency certificate, or, in the alternative, a limited-term certificate asking FERC for authority to continue operating the STL Pipeline" despite the court's decision.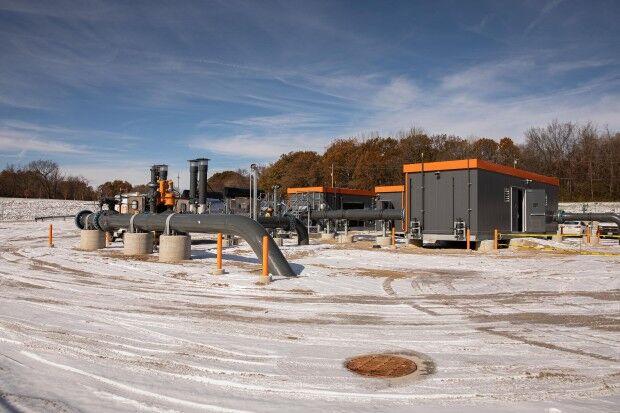 Last month, PSC seemed to side with Spire, reporting that "there is a real risk of natural gas outages during the winter of 2021-2022 if Spire Missouri is not able to obtain gas supplies from the Spire STL Pipeline." On Sept. 2, the regulatory body ordered Spire Missouri to file reports on "its current contingency plans, ongoing contingency plan development, and conditions affecting its ability to provide adequate natural gas supply and pressure to all customers for the winters of 2021-2022, 2022-2023 and 2023-2024." As a result, Spire must file reports by the 15th of each month from November 2021 to March 2022 and quarterly after that.
Spire must also provide PSC with additional reports when "conditions occur operationally, or related to Spire STL's court and FERC cases, that prompt Spire Missouri to take action related to its operations or its transportation and storage capacity on pipelines."
Merrill said Spire continues to cooperate with the PSC, but the hope is that FERC will re-certify the pipeline in time for winter weather. If not, he said, Spire customers could have a reason to worry.
"If the pipeline is not in service this winter, Spire Missouri customers could see significant service disruptions during extreme cold weather periods," Merrill said. "Spire Missouri estimates that without the STL Pipeline, between 175,000 and 400,000 customers may be without gas service to heat homes, cook food and fuel industry, based on previously modeled extreme cold weather planning scenarios. We are currently pursuing all legal and regulatory avenues to make sure customers have access to everything they need."
Merrill said Spire Missouri projects customers will begin to lose service at an average daily temperature of 9 degrees Fahrenheit. This temperature threshold increases to 38 degrees Fahrenheit once Spire Missouri's natural gas storage resource is depleted. This reserve, which holds 3.6 billion cubic feet of natural gas, is kept at Spire's Laclede/Lange Delivery Station in North St. Louis County, Merrill said. He added that the reserve will not be able to be replenished without the use of STL Pipeline.
In addition, without STL Pipeline, Merrill said Spire Missouri's ability to secure new pipeline contracts on other systems serving the region would be "significantly constrained, making it difficult to replace that supply based on current market and operating conditions."
Merrill said the whole country witnessed the devastating effects of losing natural gas service earlier this year when winter storms and extreme temperatures left millions of Texans without heat and electricity.
"Some things that we saw in Texas in February could happen here. If 400,000 customers were to lose service, it may take up to 100 days to reestablish service for all customers in the region," he said. "It is not the same as electricity. Every single customer has to have their services reestablished individually by a technician."
Merrill said accessing gas from other states via the pipeline earlier this year helped St. Louis avoid the shortages seen elsewhere, and "probably saved the region up to $300 million in estimated costs of what we would have paid versus what we were able to get natural gas for elsewhere because of the STL Pipeline in those nine days in February. That's a real-world example."