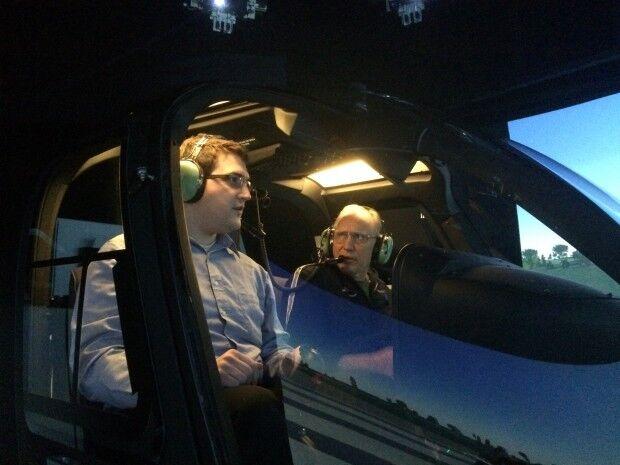 The phrase "harder than it looks" applies to many activities. Flying a helicopter is one of them.
Air Evac Lifeteam, a medical air service, recently installed a state-of-the-art Flight Training Device at its corporate headquarters in O'Fallon, Missouri, and invited Mid Rivers Newsmagazine to try it out. I accepted the challenge.
The training device is a hefty piece of hardware, taking up two whole rooms and requiring nine computers to run it. It also requires its own uninterrupted power source.
In the center of one room sits a replica of the cockpit of a Bell 206L, the type of helicopter used by Lifeteam. A large, concave screen stretches before it. Behind the helicopter cockpit is a raised control station where an instructor running the simulation sits. From that console, the instructor can control almost any aspect of the simulation, from time of day to weather, visibility and other aircraft. The instructor can even place boats and ships on the water that the virtual helicopter can land on.
The training device at Lifeteam's headquarters is the first of its kind, according to its manufacturer, Frasca Flight Simulation. In addition to visual simulation, the device also features motion and vibration feedback. While Full Flight Simulators, another type of flight training program, are required to feature motion feedback, this is the first flight training device to have such a feature.
According to Tink Sullivan and Theo Kulczak, simulation operator pilots with Air Evac Lifeteam, that feeling of movement and vibration is essential to recreate the sensation of actually flying.
"It's a huge innovation," Sullivan said.
In addition simulating a realistic flying scenario, the training device also features new technologies being incorporated into the Lifeteam fleet, such as autopilot, compatibility with night vision goggles and a glass cockpit, which has a suit of digital instrument and navigational displays.
Lifeteam moved its corporate offices to O'Fallon in 2012, from its original location in West Plains, Missouri. The company specializes in air emergency medical services for rural areas across the country. The rural nature of its medical runs makes practicing a necessity according to Kulczak.
Kulczak said the simulator gives pilots a way to get experience flying in dangerous scenarios without actually putting themselves at risk, be it practicing landing or taking off in tight spaces or flying in less-than-ideal weather conditions.
"There are just things you can't do out in the real world because the aircraft will be broken, or people will get injured," Kulczak said.
He said he has had to land in the back and front yards of homes before, sometimes even close enough to knock Christmas lights off a house.
Learning how to fly around obstacles like power lines is essential for pilots that have to make impromptu landing zones in a medical emergency.
"Next time you drive down the road, just look around and see how many wires there are," Kulczak said. "To the average person, a wire, that means nothing, but to guys like Tink and me, it means everything."
While I didn't crash in the simulation, the best I could manage on behalf of Mid Rivers Newsmagazine was to drift forward and make shallow turns in perfectly clear conditions.
Some things are better left to the professionals.