In 2019 and 2020, Mid Rivers Newsmagazine published several articles about The Meadows, its stores and restaurants, new apartments being built, and "shark tank" competitions to promote the next new ideas in retail. At that time, Lake Saint Louis leaders and residents viewed The Meadows as "the new downtown" of the city.
Lake Saint Louis mayor Jason Law and city administrator George Ertle still do. 
Law and Ertle recently pointed to growth already visible at The Meadows and some still confidential efforts to be announced later this year.
They said residents of the 220-unit Synergy apartment complex are already adding customers to shops and restaurants, as well as other businesses in the city. The Meadows Luxury Living with another 156 units in new buildings is also under construction. The upscale, multi-family community is located across Technology Drive from the main entrance to The Meadows and is expected to open by spring 2023.
An urban park that Cohen Equities said, in 2019, they would donate to the city has yet to be realized. However, Law said the company is still donating the land, though he noted that comprehensive plans for it are being finalized and confidential until approved within the next 90 days. The future of the transportation development district (TDD) for The Meadows also is under confidential discussion.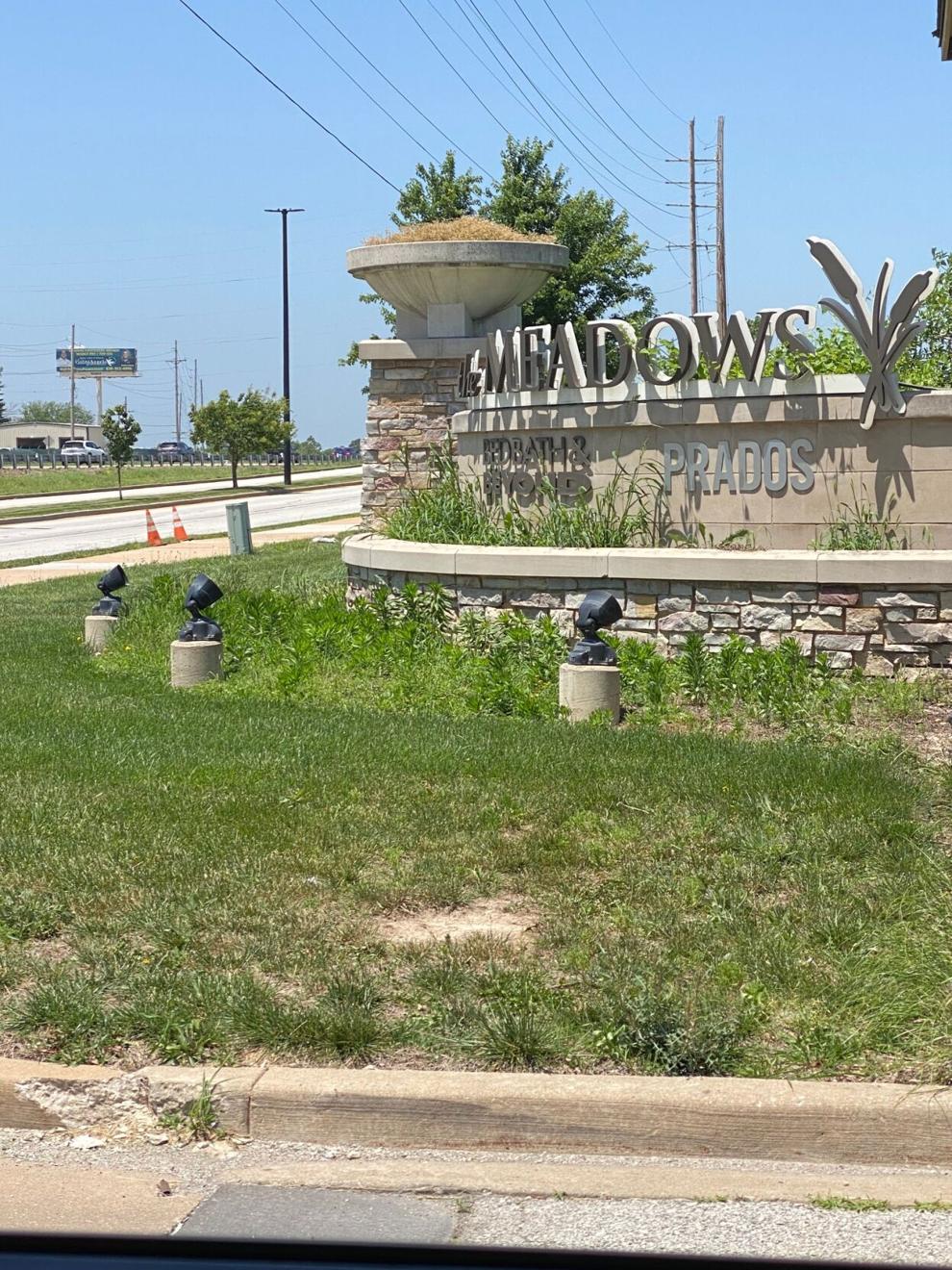 One challenge Law and Ertle acknowledged is the lack of a local manager for the mall, its buildings, landscaping, parking garage and parking lots. During the pandemic and related economic downturn, Cohen Equities released local mall management and instead was managing the property from its offices in New York. The result was a reduction in communication with mall business owners, managers and customers, which caused tension. The local leaders noted that it is much more difficult to follow up on issues when most of the management is via phone.
Law said he has heard that Cohen Equities is actively interviewing for a local, on-site mall manager.
Business owners views
To obtain mall business owner and manager views, Mid Rivers Newsmagazine reached out to 10 businesses at random, asking how they are doing and how the mall is doing. None wanted to have their names used.
The common themes were that they were optimistic about their businesses in The Meadows, seeing a great possible future there, but also extremely disappointed in the condition of the mall infrastructure. They were worried about the condition and appearance of the parking lots with numerous potholes and damaged pavement; weedy landscaping areas that were brown and black from the use of Roundup weed and grass killer; and a parking garage that drips water from upper levels to lower levels whenever it rains. They noted that some trees had been removed with raw stumps and wiring for lights still exposed.
Those interviewed said they felt the deteriorated appearance keeps some customers from coming back and word-of-mouth has not always been positive.
Additional comments included:
"I believe The Meadows can be a great entertainment and shopping area, filled with great restaurants, coffee shops, clothing stores, and a small grocery store like Fresh Thyme or Trader Joe's. I would like to see it become a hot spot for all the new apartment communities coming in. Those people need places to shop, eat, workout and receive personal care."
"I have not seen any improvements to the property or any effort in management trying to get new businesses to come in. The place is run down. The sprinkler system does not work and as you walk around, you see it above ground. Until last week there were weeds everywhere and they did cut some down, but they will grow back."
"In front of one business, there are dead bushes and tall weeds that they just cut even with the dead bushes. The sidewalks, streets and parking lots need tons of work. There are potholes everywhere. I see why this does not attract new business. Due to a lack of tenants, we, existing businesses have a lack of foot traffic. The lack of everything mentioned is hurting my business along with others."
"I pay a common area maintenance (CAM) fee monthly, and I do not know where that money goes."
The owners and managers also expressed frustration with getting building maintenance items done in a timely manner, and in some cases, done at all.
Some business owners described what appeared to be a lack of urgency from mall management in regard to leasing vacant space. They worried about the mall's financial viability being at risk, along with their business' future there.
The view from Synergy
Lindsay Vertrees, of Timberland Partners, is the community manager for Synergy at the Meadows.  The development was originally planned for 218 units, but 220 units were built. 
 "The property is made up of 158 one bedrooms, 50 two bedrooms and 12 three bedrooms with a mix of singles, couples and families. Today, we are 96.82% occupied and 99% leased," Vertrees said. "Our average occupancy stays around 96% to 98% leased."
She believes the apartments and their residents fit well into The Meadows. 
"I believe the residents come to the area and love living where they can be close to shopping and restaurants," she said. "Many come from out of town for work so The Meadows is a great way to get their feet wet, so to speak, and get to know the area while not having to drive far and get lost. We also have a very active community in the way of walkers and runners. You can take a walk around the community or the whole mall."
She said The Farmers Market is a great event on Saturdays and is going well. However, she believes the condition and upkeep of the retail property is not going well, especially "potholes and landscaping."
"This is a great area and continues to be a sought-after area for renters. There is a 156-unit complex coming at the beginning of 2023 and another 180 units projected in another year next to Synergy where the nursery used to be. It would be great to get the Lake Saint Louis Meadows shopping center full of life and shops again."
Answers from Cohen Equities
Teddy Chattah is Cohen Equities' current manager for The Meadows. He remote-manages from New York but also visits the mall in person for about a week each month. 
"We have tens of millions of dollars invested in The Meadows and are committed to the property's success," Chattah said. "We currently hold the property in an all-cash position and have never mortgaged nor made a single distribution. In fact, we have reinvested our profits into the center.
"Like most businesses, we have faced numerous challenges related to the pandemic and it disrupted and delayed many of our plans. Notably, revitalization efforts targeted for completion in spring of this year got pushed back to 2023, and are now part of a larger capital improvement plan for The Meadows. Over the past year or so we have been soliciting bids from various trades to carry out the plan."
Chattah said, "Financing the capital improvement plan proved more complex and time-consuming than we anticipated, but we now have a lender and a structure that works for all involved."
He said a new landscaping plan would include increased hardscaping and artistic sculptures that can be changed out from time to time to keep the property looking and feeling new and exciting."
In regard to the parking garage, Chattah said it was inspected by a structural engineer on Aug. 30 with no structural damage reported. The issue with rain water, he said, was caused by a failed pump that was being replaced. Cosmetic repairs will be addressed as part of a larger improvement plan inclusive of parking lots and crosswalks. That complete parking lot overhaul is expected to be completed by spring 2023; however, Chattah said Cohen Equities hoped to get Phase 1 of the overhaul completed this fall before temperatures drop to restricting levels.
Asked about the challenges of remote management, he said Cohen Equities is seeking full-time, on-site management. He indicated that the position was anticipated to be filled by mid-October.
In regard to mall maintenance, Chattah said, "We currently have two full-time and one part-time (maintenance workers), and are looking to hire more interested and qualified people. Any interested parties are asked to reach out to Meadows@CohenEquities.com and we will be in touch with them."
He added that the company also works with local experts, such as an electrician who has worked with Cohen Equities and the property for many years. "Similarly, we work with  HVAC techs, locksmiths, and other specialized trades," he said. 
Currently, the mall has 29 tenants, down from 45 in 2020. 
"Overall occupancy is 75% of the leasable square footage, not including an additional 26,898 square feet of recurring seasonal and space occupied for tenant storage," Chattah said. "Rent is quoted between $20-30 per square foot per year (PSFPY), and we will negotiate with anyone interested. We believe this rate is lower than the Dierbergs plaza across the street, which was asking $35 PSFPY last we checked.
"We recently signed a lease with a new CrossFit tenant, and they will be opening in the coming weeks. We currently are in negotiations with three other tenants and expect that there will be more announcements of new tenants in the coming weeks."
The Children's Museum (planned in 2019-2020) failed to materialize when the organization that sought to build it was unable to raise the needed funds. 
"The Meadows offered up the land free of charge and a large donation," Chattah said. "We share the community's disappointment in this project not being completed."
As for RetailNEXT, the "Shark Tank-style" competition The Meadows ran in 2019, Chattah said it was a nice idea in concept. "However, many factors played a role in making it extremely difficult for us to continue," he said. "We do not have plans to do this again."
What Chattah does plan for is "the very best for The Meadows."
"We are committed to making it the best experience possible for our tenants, visitors and the community," he said.
---
The Tenants
The Meadows currently boasts the following retail, dining and entertainment facilities:
• Von Maur • Bed, Bath & Beyond • Old Navy • BC's Kitchen (comfort food with local seasonal ingredients) • Prados (modern style Mexican food) • Clementine's Naughty and Nice Creamery • Hygge STL (juices, smoothies and healthy eats) • Boulevard Bride • LOFT • Chico's • Maurices • Claire's • Pistols N Vixens• Bath & Body Works • The Shop Barber & Bar • Inspire Salon • Paradox Fitness & Kickboxing • LittleBits Gym • Winghaven Manual Physical Therapy • Lenscrafters Optique • CrossFit (soon to open) • Mueller Furniture • Eastern Missouri Police Academy • Sebastien's Pet Salon • Edward Jones • Bridgewater Communities • Kelly Laramore Photography & Films • Olive Tree Market Place • Kawai Piano Gallery St. Louis • Continental Title Company
Additionally, it is home to seasonal shops: Spirit Halloween and Olive Tree Christmas Market.