On Friday, Aug. 20, i3 Broadband launched its new regional headquarters with a ribbon-cutting ceremony at 230 Turner Blvd. in St. Peters. 
The Peoria, Illinois-based fiber-optic company provides high-speed internet, television and voice services. Its presence in St. Charles County is expected to involve a corporate investment of over $100 million into the local economy as part of the multi-year project to serve the cities of St. Charles, St. Peters, O'Fallon, Wentzville, Lake Saint Louis, Dardenne Prairie, Cottleville and Weldon Spring among others. 
The company has operated in and around central Illinois since, as its publicist says,  "dial-up internet was cool." According to the company's online profile, it delivers internet services directly into customers' homes through its 100% Fiber To The Home (FTTH) network with speeds up to 300 times faster than DSL.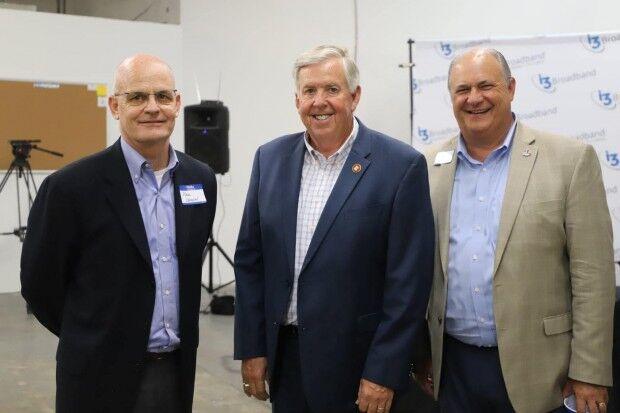 Bringing the company to St. Charles County has been the work of Mike Elam, who serves as i3 Broadband's vice president of community affairs and market development. However, it is as a County Council member (District 3) and Dardenne Prairie resident that Elam perhaps best understands the critical need for, and challenge of providing, rural internet service to St. Charles County. He is not alone. 
"This is a serious issue, to expand broadband in the state, and today is a good first step," John Wiemann, Missouri House Speaker Pro Tem, emphasized following the formal proceedings on Aug. 20.  
Wiemann was among a host of local and state leaders and dignitaries at the ribbon-cutting ceremony. Also in attendance was Gov. Mike Parson, who lauded the project and stated, for the record, that it was being completed "with no state subsidies." Parson said the project dovetailed nicely with his oft-stated intent to strengthen Missouri's infrastructure and the development of its workforce. 
According to the company's Chief Operating Officer, Brian Olson, i3 Broadband will bring over 100 new jobs to St. Charles County in the next 18 months alone. Currently, the company is seeking to hire residential sales reps, cable burial technicians and fiber-optic splicing technicians. Job postings are listed on indeed.com.
"By expanding our network throughout St. Charles County, we're continuing to execute our long-term vision of substantially growing our footprint, and our relationships with each community we serve," Olson said. 
The company will offer fully symmetrical Gigabit speeds (meaning that uploads and downloads will have the same rapid speed). Residential internet speed offerings of up to 10 Gigabit per second will be available this year. According to Olson, projects of this size typically take just over two years to complete; system design and construction began last spring.
St. Peters Mayor Len Pagano called the expansion a "game-changer." He echoed sentiments that the company's services will attract new businesses to the region and elevate the lives of residents through the services offered and tax dollars and economic development generated. The region's improved quality of life, he said, is "the type of benefit that cannot be statistically calculated." 
Whether the company's footprint will be limited to St. Charles County remains to be seen but U.S. Rep. Blaine Leutkemeyer (R-District 3) joked the company would really be accomplishing great things if it could bring high-capacity internet to his rural St. Elizabeth home in Cole County.