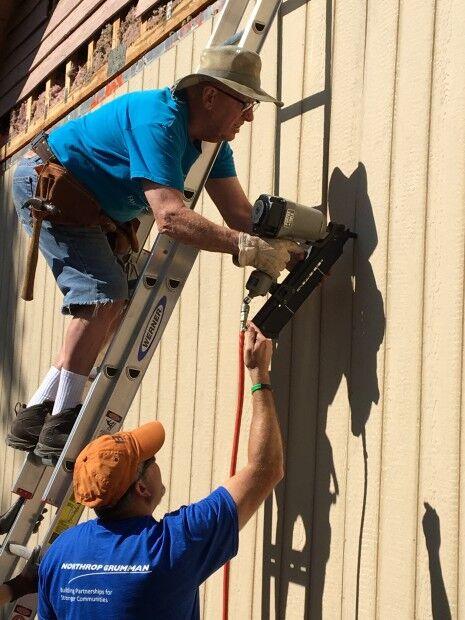 Sometimes it's the seemingly small gesture that can make life more bearable. Ruth Bartholomew knows that.
Bartholomew, 63, lives in a mobile home park in O'Fallon. She doesn't have much money and has a disability that makes it difficult to take a shower. But not anymore.
"I would have to climb over the edge of the tub to get in and out," Bartholomew explained. Then, she found Steve Collier and a group of volunteers from Restore St. Charles. They retrofitted Bartholomew's bathroom with a zero entry [low threshold] shower. The work was finished around Christmas.
"Now I no longer have to do that," she said. But it was more than just the work that made an impact on Bartholomew. It was their attitude.
"They were so cheerful," Bartholomew said. Collier also helped her with other needs, putting her in touch with other community organizations. "Oh gosh, they made me feel so good even though I couldn't afford to do this. They never made me feel like I was a second-class citizen for it. You wouldn't believe how many 'no's' I heard and turn-downs and attitudes before I got ahold of them.
"They made a difference every day for me taking a shower or not. They made my life so much more comfortable."
A Decade of Care
Making a difference by making lives more comfortable is what Restore St. Charles is about, said Collier. Since 2007, the faith-based organization has been trying to meet the real needs of St. Charles County residents by doing home repair projects that many residents otherwise can't afford. Collier, the group's president, said the work is usually completed on the third Saturday of the month.
Typically, Collier develops a list of projects at five or six locations. Then, an email is sent to a cadre of 100-120 potential volunteers. Usually about 30 show up at Dardenne Presbyterian Church in Dardenne Prairie. They enjoy a continental breakfast, attend a safety and project briefing, and sign liability forms before going to the job sites. Each project has a project manager.
"One of our mottos is restoring lives, restoring homes," said Collier. When they can do a project, it's often deeply appreciated. "People cry," he said. "They are so grateful that somebody is going to help them. A lot of these folks will call various places and they won't even get a return call."
The work can be simple or complex – a ramp to allow wheel chair access into a home, replacing rotting floors or toilets, installing siding or a water heater, painting walls, fixing windows, or cutting down tree limbs.
"We do what Christ asks us to do. We view ourselves as being the hands and feet of Christ for these people," Collier said.
What is unique about those volunteers is not only their commitment but also their longevity. There are many churches and civic organizations that do wonderful work in the community, but perhaps not for as long as Restore St. Charles has, said Alexis Jaeger, who administers community development block grants for the city of O'Fallon. O'Fallon often refers home repair projects to Collier.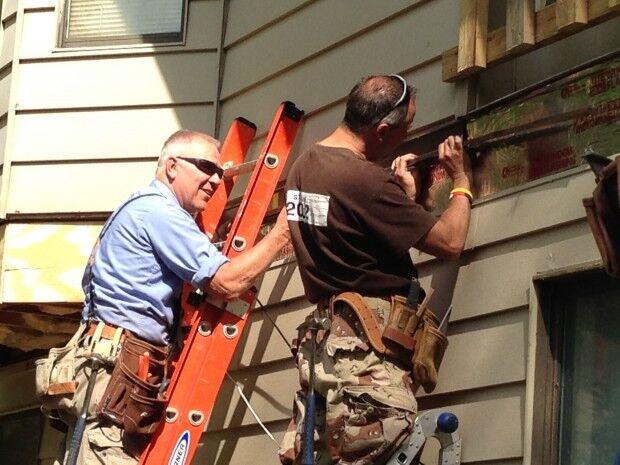 "At least in my experience, they [other volunteer home repair organizations] may be out there and I may just not be aware of them, so I can't blanket say they don't exist," Jaeger said. "But Steve is just the most consistent. I know, weather permitting, they [Restore St. Charles] are out there the third Saturday of every month."
Home repairs are a significant issue for many residents, because a lack of repairs can lead to poor living conditions that in turn lead to public health issues, prompting evictions or fines. Cities also want housing stock to be maintained, and can issue citations requiring repairs. Federal community block grant funding can help residents fund home repairs if they qualify. But not every resident meets funding eligibility requirements. Some also can't afford to hire professional contractors.
If a resident's income is at or below 80 percent of the median income of St. Charles County, they may be able to qualify for help, Jaeger said. "If they are slightly over that, our hands are tied as far as helping them," she said. So Jaeger puts them in touch with Collier. "My goal is to assist residents and, if I can't do it, I want to put them in touch with organizations that either can or continue to refer those homeowners to help find them a solution."
She said Restore St. Charles has the right mix of skill sets among its volunteers to really be of service. And she said those volunteers provide "immeasurable value to our community."
With Hands and Heart
Todd Barnes, executive director for the St. Charles Community Council, an umbrella organization for county nonprofit organizations and agencies, agrees.
"They certainly have found a good niche and carved out that opportunity [to help] and have a funding source that has allowed them to do that through volunteer work," Barnes said. "There are several churches that have that outreach, but it's hit and miss."
Restore St. Charles has its roots in a group of six volunteers who did volunteer work for years with an organization in St. Louis, providing home repair services to widows, orphans and invalids.
"As we were going down there we would say, 'You know, there are probably some folks in St. Charles County that could use some help also,'" Collier said.
The beginnings for Restore St. Charles came out of a mission conference at Dardenne Presbyterian Church. Collier said they talked to city officials and members of the St. Louis group they had been helping. He said he was worried about having enough worksites for volunteers to keep them involved. They were thinking about helping people in mobile home parks.
"I was sitting there thinking about that and I get a telephone call from this guy in St. Louis saying, 'we were down here thinking about what you guys are doing,'" Collier said. "'Have you ever thought about doing some work on mobile homes?' And I said, 'well, yeah.'"
About 80 percent of the projects the group does these days are in county mobile home parks. Cities and social service organizations such as Sts. Joachim and Ann Care Service, the O'Fallon Rotary Club, the Community Council and churches often provide referrals. But Collier said the group can't take everyone. Sometimes they don't have the expertise or resources to do the work. Sometimes he has to say no because the repairs are too extensive or won't work. And there are other issues. "We worked on one roof and a guy fell through," Collier said. "My insurance guy says, 'no, you don't do roofs anymore.'"
The repairs often are made at little or no cost to residents.
"There are two things we ask of people when we are going to work with them – one is, if they are capable, we would like them to work alongside us on that project and also work on another project in the future," Collier said. "The other thing we ask, if they are capable, that they also provide some funds for the materials we use. Frankly, 98 to 99 percent of the people can't do either. An awful lot of folks are disabled and they can't work alongside of us."
Sometimes volunteers come upon a resident who wants to talk to them – to the point that work doesn't get done.
"If there is a person [who] wants to stand and talk to you, talk to them," Collier said. "Because that relationship is just as important as anything else we're doing. So don't ever shortchange people."
There also are unexpected surprises – homes where hoarding takes place that has to be removed, homes that are dirty and unkempt, people who sometimes don't say thank you but who expect much.
"You take down a smoke detector and the roaches fall on your head," Collier said.
Still, the group said they have 248 volunteers giving an average of six hours a month, which totaled more than 1,488 volunteer hours in 2016. Many help for years. Collier tells about finally talking someone into volunteering.
"He goes on his first job and says, 'I went there thinking I'm going to go and be a blessing to this person,'" Collier said. "Then he adds, 'You know what? I was the one who received the blessing.'"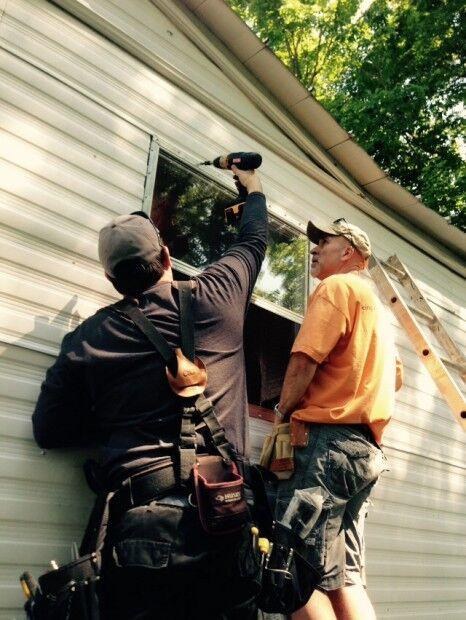 The Need Continues
Operating a volunteer organization isn't easy. While the group receives support from Dardenne Prairie Presbyterian and Christ's Church on Mexico Road along with donations from volunteers and some discounts on materials, it's difficult to stay solvent.
In 2015 and 2016, the group operated in the red. In 2015, they had an income of $7,711 and expenses of $20,575. In 2016, they had an income of $6,391 and expenses of $10,968. Collier said the group is seeking 501(c)3 status as a nonprofit organization, which may encourage fundraising, something that hasn't been done so far.
Restore St. Charles entered 2017 with less than $2,500 in the bank.
"My philosophy has been that the Lord provides for us," Collier said. "But as I look at it maybe the Lord provides for us by coming through with people who support us on a fundraising basis."
The group also is recruiting more volunteers and works with companies, cities and civic organizations when their employees do volunteer projects. There will be work for them.
Collier and other social service providers said poverty isn't as pervasive in St. Charles County as in other places in the St. Louis region. Barnes said poverty in a prosperous county can remain "largely hidden" compared to other areas.
Just under 900 people were counted as homeless last year in the county as part of an annual homeless count conducted in January by the Community Council, compared to about 1,300 in the city of St. Louis and 450 in St. Louis County, he said. Figures for 2017 are not available yet.
Karen Grant, director of development for Sts. Joachim and Ann Care Service, perhaps the largest social service agency in the county, said seniors particularly need help in maintaining their housing so they can "age in place" and not end up in a nursing home.
Sandy Pratte, coordinator for Sts. Joachim and Ann's repairing homes/restoring homes program, said her agency doesn't have to rely on Restore St. Charles to help with repairs, but sometimes she refers people to them.
"They [her employees] are so busy," she said. The need for help with home repairs remains in St. Charles, Lincoln and Warren counties, she added, particularly in mobile home parks.
"It's a sad thing, but mobile home parks will sell less-than-livable mobile homes to people with low incomes and then, when they get them in, they say, 'you have to fix them up,'" Pratte said.
And so the need for volunteers, funds and restoration continues.