Robert Thomas delivered on the ice for the St. Louis Blues last season.
The 6-foot, 218-pound Thomas had a breakout year in the 2021-22 campaign. He set career highs in goals (20), assists (57), plus-minus rating (plus-17), shots (115), power-play points (14) and average ice time (18:47) through 72 regular-season appearances.
Back in March and April, Thomas put together the longest consecutive point streak in the NHL at 17 games (eight goals, 21 assists), matching a mark set earlier in the season by Edmonton standout Connor McDavid. The streak was the longest by any Blue under the age of 22 and the longest overall since Brett Hull set the franchise record during the 1991-92 season at 25 games.
Thomas, a cornerstone center, can dazzle on the ice with a variety of passes to wingers that creates a buzz among fans.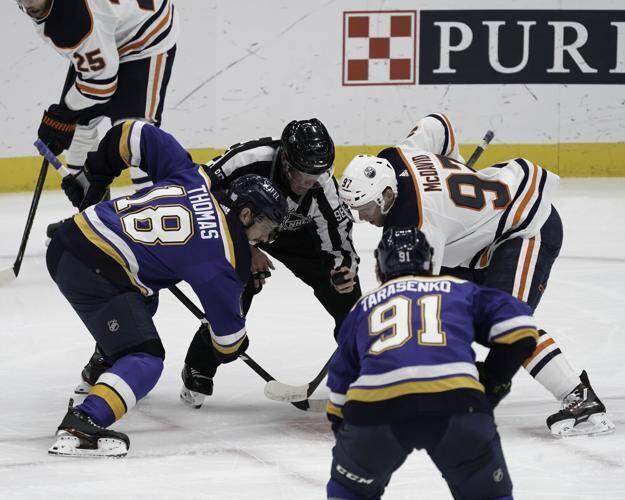 Thomas is entering what should be his prime seasons as an athlete.
This offseason, St. Louis signed Thomas to an eight-year $65 million contract extension, good through the 2030-2031 season. He will be just 31 then and could earn another big deal.
He was expected to become a restricted free agent after the 2022-2023 season. However, while he still had one year left on his contract, Blues General Manager Doug Armstrong locked up the long-term deal, which will begin in the 2023-2024 season.
Thomas will average $8.125 million a season.
The cap hit on Thomas' new deal would make him the Blues' highest-paid player in 2023-24, although teammate Jordan Kyrou is also in need of a new contract after next season.
"Obviously, we look at him as the centerpiece of our organization moving forward," Armstrong said in a Zoom conference announcing the deal. "When you look at how Craig (Berube) used him from a year ago to last year, he touches every part of our game. He's a 5-on-5 player, both ends of special teams, I think his ice time was the second-most ice time of our forward group and that's at 22, so that's only going to elevate.
"You look at his point total as a 22-year-old, I think it might have been the most points by any 22 or under player in the league last year, if not very close. It reminds me quite a bit of actually signing (Alex) Pietrangelo and (Vladimir) Tarasenko, both coming off their age 22; we signed them to long term deals, we felt they were cornerstone players and we feel that's Robert."
Thomas has said he wants to remain a Blue.
"St. Louis is where I want to be," Thomas said on Zoom. "From the moment I got here, it's been a second home to me, and every year that's gone by, I've loved playing for the Blues more and more. Since I've been here, I've felt like we've had a chance at winning the Stanley Cup every season, and I truly believe there will be many more opportunities to win it. That's why I couldn't be happier to be part of it for the next nine seasons."
Armstrong is confident there will be a part of Thomas that will try and live up to the contract.
"It's a lot of pressure to put on Robert, a lot of expectations," Armstrong said. "I think he appreciates that and he's ready for that challenge."
Thomas was originally drafted by the Blues in the first round (No. 20 overall) in the 2017 NHL Draft. He won a Memorial Cup with the London Knights in 2016, a gold medal at the 2018 World Junior Championships and a Stanley Cup with the Blues in 2019.
In 241 NHL games – all with the Blues – Thomas has recorded 164 points (42 goals, 122 assists).
"I'm excited for the future of this team," Thomas said, "and to be part of the championship runs to come. I think it's pretty cool."
When Thomas came to St. Louis he stayed with former Blues left-winger Keith Tkachuk and his family. The two Tkachuk boys – Matthew and Brady – also play in the NHL.
"I was welcomed by the Tkachuk family. I think that's a good family to be welcomed by," Thomas said. "Ever since then, I've loved playing for the Blues. I love the city, I love the people and just so excited about that.
"So that was a huge factor for me. This deal was able to get me there for ... I've got nine years left. That was something really important to me and my family and just that comfort level of being in one place that you and your family love is so important."