Everyone needs a good laugh. That's a belief shared by many but especially by Michael Tobin, owner of Back Door Comedy and Events, which is located "around back" from the Tap House Pub & Patio, 9015 Veterans Memorial Parkway in O'Fallon.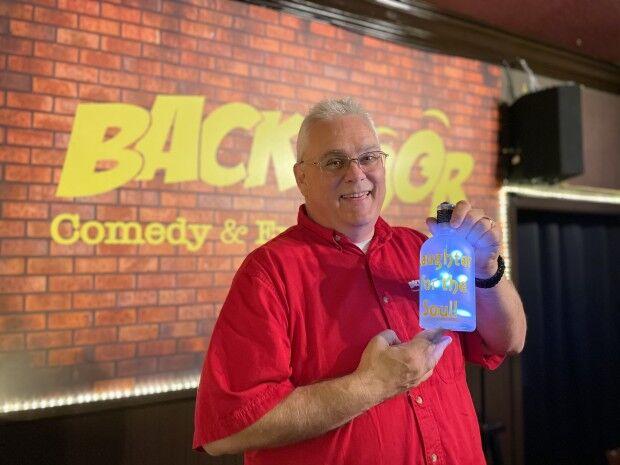 "Laughter is good for the soul," Tobin said. "Now, more than ever it's important to have laughter in your life."
Tobin, a business and certified life coach, said his interest in comedy became cemented after he met local comedy legend Al Canal.  
"We became friends and did some charity work together," Tobin explained. But Canal's influence also led him to vow that if the perfect opportunity ever came along, he would open a comedy club. 
His golden opportunity presented itself in June 2019 when he stopped off at the Tap House for happy hour. 
"The Tap House owner told me they were looking to rent the back half of the building. I took a look at the space and told them I would open a comedy club," Tobin said. He had noticed that St. Charles County had a lot of venues that had bars and music, but no one was doing comedy. "I saw a need. The available space behind The Tap House provided the opportunity to bring family owned comedy entertainment to St. Charles, which is important. Being family owned makes a big difference because the other clubs in the area are corporate owned."
Tobin also has the advantage of being a local guy. He grew up in nearby Lake Saint Louis and is now a St. Peters resident.
As a life and business coach, he also wanted to help comics achieve their goals. 
"It's a Zen thing. Laughter in the room makes the comics happy, too," Tobin explained. "Comics need laughter as much as we do. They need to tell their stories and have people laugh." 
Back Door Comedy is an intimate 90-seat venue, which is also available for rental for private events. Tobin books local, national and touring acts, all highly recognized on the comedy circuit. 
"For being a fairly new comedy venue we're very well-known across the country on the comedy circuit," Tobin said. But many locals are still unaware that a good laugh is right around the corner. 
"Locally, it's amazing how many people don't know we're here, or come into the Tap House and don't know there's a comedy club in the building," he said.
In conjunction with Tap House, Back Door offers a full bar with 20 beers on tap and an appetizer menu that's small but mighty. 
"You can come and eat dinner at the Tap House before the show, or order an appetizer during the show," Tobin said. He recommends trying the fried chicken pot-stickers with firecracker sauce (a sweet and spicy Thai-style dipping sauce). You won't be disappointed. 
Back Door Comedy is open Thursday, Friday and Saturday nights. Open mic night featuring 17-18 comics at 7:30 p.m. (doors open at 7 p.m.) is every Thursday. Friday and Saturday nights host 90-minute shows beginning at 7 p.m. (doors open at 6:30 p.m.). A second show at 9:15 p.m. on Fridays and Saturdays is added when ticket demand is high. For a look at upcoming shows and to purchase tickets, visit back doorcomedyevents.com.
Tickets prices on Thursdays are just $5 per person and $20 for Friday and Saturday headliner shows. The price is right for return visits and abundant laughter.
"Once you come to a comedy show you'll truly understand, and you'll want to come back," Tobin predicted. "It's amazing how many repeat customers I have. Some come every week. Back Door Comedy is a special place where you can come, forget about your problems and laugh. It's good for the soul. "